Hello Guys, Many peoples are confused about the monkey wrench. Monkey wrench looks somewhat similar to pipe wrench but there are some differences between them and their use.
As we saw many kinds of wrenches in the previous article, Which included both a pipe wrench and a monkey wrench. So, friends, we researched these two wrenches and understood the difference between them and In this article, we have explained the difference between these two wrenches with many points, which will be very useful to you. So read till the end for a better understanding.
The main difference between a Monkey wrench and Pipe wrench is in their construction and application. They are somewhat dissimilar in construction since the pipe wrench (having serrated jaws) is designed for the round soft metal pipes while Monkey wrench (having flat jaws) is designed for the nut or bolts.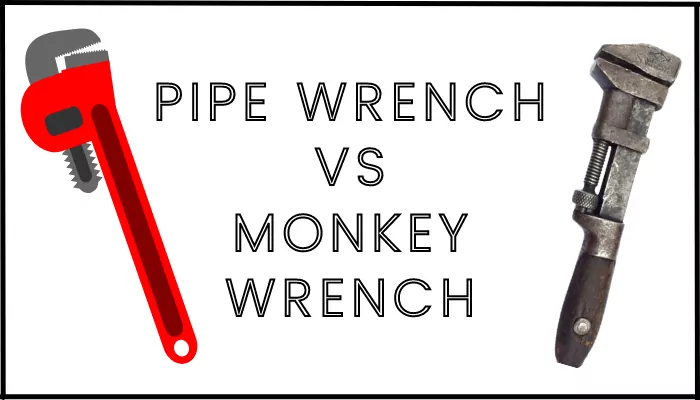 Before starting the main question, Let's see briefly about these two wrenches that will help you to understand difference in a better way.
What is Pipe wrench?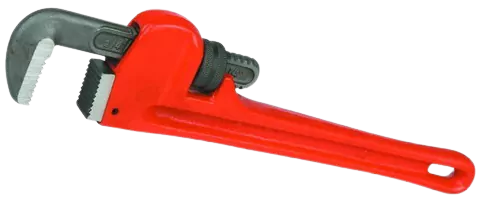 The pipe wrench is the adjustable kind of wrench that is the main hand tool of each plumber. The pipe wrench is invented for the purpose of tightening or loosening round soft metal pipes. As I mentioned adjustable which means is (as you can see in the above figure) one of the jaws used in this wrench can be adjusted for applying wrench on different size pipes.
The lower jaw of the pipe wrench is fixed to the handle while the upper jaw is adjustable. Both jaws have serrated teeth, which are bitting into the soft pipe and provide great grip onto the pipe, and if we try pipe wrench on hard material pipes then wrench may slip on that.
The pipe wrench has a spring that is attached to the upper adjustable jaw and it is located in the wrench body. So, this spring helps to pull the upper jaw in the back direction that helps in providing a great grip on the round pipe. Like in a ratchet wrench, there is no need to remove and reset the pipe wrench during each turn since the upper jaw of the pipe wrench is spring-loaded.
The pipe wrench should not be used on the hexagonal bold\nut, if we try pipe wrench onto the Nut\Bolt then there are chances of breaking pipe wrench serrated teeth or Nut/bold becomes rounded. But pipe wrench can be used on rounded bolt/nuts which are not possible to remove using other standard wrenches.
What is Monkey wrench?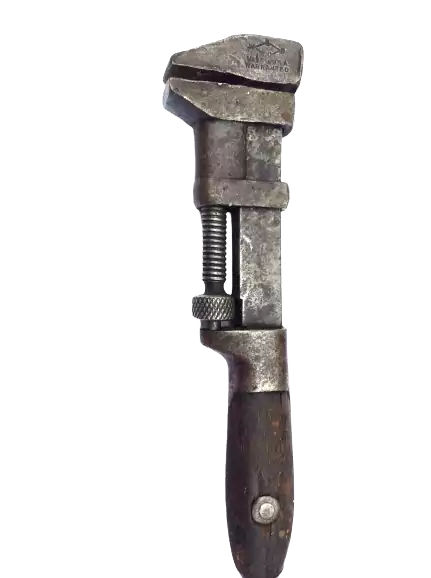 The Monkey wrench is an old type of wrench that was widely used in 19 century as well as some time in 20 century. But due to its heavy and larger size, peoples choose to work with the ergonomic design adjustable wrenches while some people are still using this type of wrench for a particular work.
The Monkey wrench has two jaws from which the upper jaw is fixed to handle while the lower jaw is adjustable. Unlike pipe wrench, both jaws of the Monkey wrench are flat and smooth since they are designed for tightening or loosening Bolt or Nut.
The disadvantage of such a type of wrench is we can't use a wrench for a particular Nut or Bolt which is in cramped space because of Monkey wrench larger head. If Monkey wrench is used on the round pipes then there are chances of round pipes getting damaging.
Monkey wrench vs pipe wrench:
The Pipe wrench is designed for the grip and turn round soft metal pipes as it has serrated teeth on both jaws while The monkey wrench is designed for the Nut/Bolt as both jaws are flat.
The difference between their construction is that In a Pipe wrench upper jaw is adjustable and the lower jaw is fixed while in Monkey wrench lower jaw is adjustable and the upper jaw is fixed.
The Pipe wrench has a smaller head so it can be used in narrow spaces while the Monkey wrench has a larger size head that can't be used at the narrow space.
The Pipe wrench has a spring-loaded upper jaw, hence such a wrench can be used without removing and reset on metal pipes during work as like in a ratchet wrench while the Monkey wrench hasn't such a feature.
The pipe wrench has serrated jaws which bits into the soft round pipe to hold firmly while In Monkey wrench the flat smooth jaws hold the two faces of the Nut/Bolt head to hold it firmly.
Which wrench should I choose?
Both wrenches have their own design and purpose, from which a Pipe wrench is used for the round metal pipes as well as Monkey wrench is used for the Nut/Bolt. So, these two wrenches are used at two different types of works.
Therefore to choose a better one for you, first, analyze your work what actually you need, then if you have more requirements for a pipe wrench then choose it and if you have a need for both of them then choose both (that I will also suggest you).
Conclusion:
In this way, the monkey wrench and the pipe wrench look somewhat similar, but their purpose is different. So if there is no pipe wrench with you, it would be wrong to do the same work with monkey wrench. It is always advisable by me to keep both of these wrenches in your toolbox so that you can use one of them as per your need.
Media credit:
Monkey wrench image by ebay